Edge is simply a monthly IT related "newsletter" (if you really have to label it!), brought to you by Secure Services & companies. We hope to keep you informed about the latest trends, news and views from the IT world, which are posed to directly or indirectly impact on you or your company. We promise to be an easy, fun and quirky read, because IT is not a world full of boring technical people, who are too busy to stay updated because they are busy saving costs for companies and/or being super heroes against IT theft! *BREATHE*
Enjoy our maiden edition!

Kindly be updated...
Secure Services Group is celebrating its 15 years in business this financial year 2019-2020. To serve Africa efficiently, Secure Services (Mauritius) Rwanda Ltd was launched in 2018.
Partner   

Level Achieved by Secure Services
What it really means
 
Gold Partner
(The only Gold partner in Mauritius & Rwanda)  


We deliver the full spectrum of Fortinet's solution set

We have certified Engineers to assist with any breadth of implementation or optimisation needs

We are recognised for our superior customer service and support capabilities 

 
Gold Solution Provider
(The only partner in Mauritius to hold GOLD status)  


We have high level of expertise and commitment to one or more Citrix technologies. 

We have a proven record of skills and experiences to accompany you in your digital transformation

We work closely with Citrix to successfully deliver Citrix solutions to customers 

 
Master Partner
(The only Master partner in Mauritius and Rest of Africa) 

Extensive experience in Data Center Virtualisation

Optimise your Infrastructure life cycle management

Multi-Cloud Management and Security

In this section we share some updates from our preferred suppliers a.k.a Specialists of their field. Should any of the below items intrigue you, SSG is always at your disposal to clarify or advise you accordingly.

Nutanix Mine:A datasheet
Nutanix, gives you the freedom to choose with Nutanix Mine. Embracing an open platform strategy, Nutanix Mine is a turnkey solution from Nutanix that integrates with popular back-up solutions, including those from Veeam, HYCU, Commvault, Veritas, and Unitrends. Know more →

How big tech is dragging us towards the next financial crash
It has been more than a decade since the 2008 financial crisis. Back then, banks were the "too-big-to-fail". Technology companies, by contrast, have led the market upswing over the past decade. But this time around, it is the big tech firms that could play the spoiler.Enjoy the long and thought provoking read →

We cannot stress enough to clients on the importance of being DPA and GDPR compliant, if you are still pondering over it, well read onto know what coming for you! Word to wise: just get in touch with us and we will sort it out for you…

Facebook, who is already facing lawsuits in USA over information sharing with the likes of Cambridge analytics, has been ordered with another fine, this time from Turkey (the country of course!). Get some more details by reading on…

Sneak Peak into the future
There is not enough being done for the betterment of our planet and other species. This light read section covers some innovative and/or commendable actions being taken by our peers in the global IT sector. Here's to applauding them and finding our bit of inspiration to follow some great steps to be Green & Prosperous.

Amazon promises net zero carbon emissions by 2040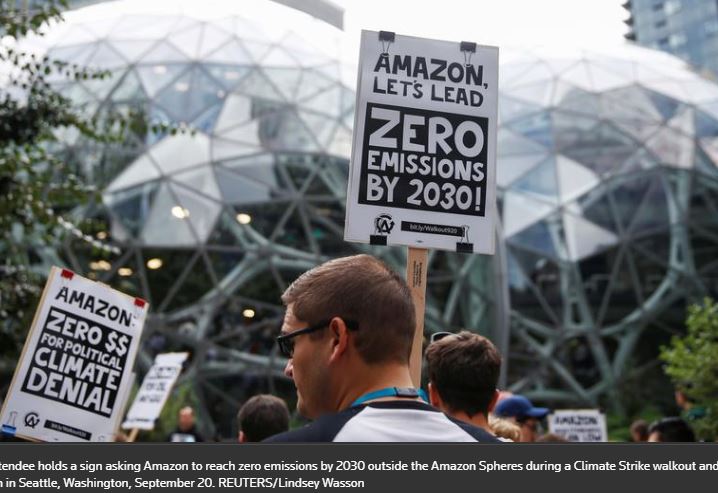 November 10, 1983
Microsoft formally announces Windows, a graphical user interface for Microsoft DOS-based systems. Bill Gates promises that Windows will ship by April of 1984. However, in true Microsoft fashion, Windows 1.0 doesn't actually ship until November 1985. While Windows 1 and Windows 2 saw limited usage, it wasn't until Windows version 3 that Windows began to see widespread acceptance.
How did you find the first edition of Edge?